Don Tharrett
email: elvis@austinelvis.com
web site: http://www.austinelvis.com
phone: 512-296-8401

VIDEO CLIPS click HERE
Don is from Burnet, Texas...the following is from his web site: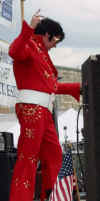 "If you asked me several years ago if I would ever be doing an impersonation of Elvis Presley I would have said, "No way". I was not a singer and if I did sing, it would be where no one could hear me. Never really thought of my voice as being very good or having much of a range. My life took a sharp turn when I decided that singing to my wife at our surprise twentieth wedding anniversary would be a great idea.

Originally I had planned on singing just one song by Tom Jones.

The song was "'Til". Not knowing how to sing I contacted a voice coach for help, and boy, did I ever need help. I took 8 weeks worth of voice lessons to ready myself for the performance.

At this point I had been listening to my wife's Elvis CDs and the thought
occurred to me that, Hey, I could sing these songs. So I selected two songs, "Devil in Disguise" and "The Wonder if You" to beef up my song selection for the party. I also rented a jumpsuit from the local costume shop to wear during the performance. I purchased costume rings, side burns, and a wig. The wig was one of the really big Elvis wigs, but I wasn't aware of that fact until I got it home and tried it on. Since the wig was not very flattering I decided to dye my hair black just for the occasion.



I even sang at a Karaoke bar the week before the party just to see if I had it in

me. I was quite nervous, but made it through the first song. The karaoke host suggested I sing the other two songs, which I did, and made it through with out
panicking.


The performance at the surprise party was a real shock for my wife, who had never heard me sing before. I received many complements on my singing, but I was really hooked on performing before I even set foot out on stage. Walking out to the stage in pitch darkness with the "2001 Space Odessy" playing and the audience screaming is a big rush. I knew then that I had to repeat the performance, which I have done many times over."