Doug Olvey
email: figmentdj@hotmail.com
website: http://www.figmentdj.8m.com
telephone: (817) 540-3845

VIDEO CLIPS click HERE

What started as a great way to dress up for Halloween, has become a labor of love. Always a huge Elvis fan, and always the entertainer, Douglas first impersonation attempt began while he was the entertainment director of a Fort Worth Holiday Inn. Looking for an instant energy boost for a thriving Happy Hour crowd, Douglas donned his jumpsuit and lip-synced several rockiní Elvis songs, while getting the crowd involved in his performance. It was a hit and soon Douglas was performing Elvis regularly with live vocals.
As his confidence grew, Douglas strove to give a more accurate portrayal of The

King while letting some of his own personal flair and charm be visible. After several years of occasional performances as an Elvis Tribute Artist, Douglas decided to pursue the idea of adding the show to the list of services in his professional mobile DJ service in May of 2001. And he hasnít looked back. In just over a year Douglas has performed at birthdays, casino nights, corporate video shoots, nightclubs,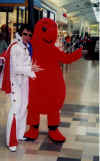 festivals and even weddings around Dallas/Fort Worth.
Plus, he has competed in the Tribute to the King at the Isle of Capri Casino in Bossier City and the Elvis in Dixieland contest in Birmingham, Alabama. And as a finalist at the Hard Rock Cafe in Dallas, Douglas was the only Vegas style Elvis to be honored.
Along with his wife and producer, Laura, their company Figment

Productions, is one of the most respected and highly-demanded DJ services in North Texas. And with his Tribute to the King show moving into high gear, it looks to be another incredible year.