Darin Thrasher
email: elvis@elvisthrasher.com
website: http://www.elvisthrasher.com
phone: 281-559-4992
Darin Thrasher lives near Kemah, TX...the following is from his web site: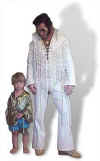 "Hello. My name is Darin Thrasher. I was born April 28, 1967. My mom was a big Elvis fan so I grew up listening to and watching the "King". I had 3 big dreams as a kid;
| | |
| --- | --- |
| | to be a football player |
| | to be a boxer |
| | to be an Elvis impersonator |
But in my wildest dreams I always went back to being an Elvis impersonator. I dabbled with playing Elvis when I was young but I was really shy and would only do it in front of my brother and sister.

"Jamie," my kid brother always encouraged me to get serious about doing it. He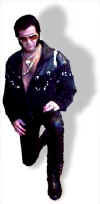 saw potential there and urged me on but I didn't listen at first. He watched me "play the King" for hours and hours on end while we were kids. He always told me to pursue it. He pleaded with me to spread my wings and try to fly. Unfortunately he never saw his vision come true.

My brother was tragically killed at the tender age of 19 in a traffic accident. Our family was devastated. I was in shock and began drinking to escape the pain. I found myself spiraling into a self destructive life cycle until August of 95 when I lost my job, I lost my wife and, finally, hit rock bottom.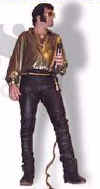 I checked into a rehabilitation facility in the summer of 1995. After my release on August 16, 1995 I was determined to rebuild my life. It was like a second chance! I struggled to figure out what I wanted to do during the rest of 1995, 1996 and early 1997 as I held various jobs that brought me no real pleasure. I didn't really feel like I was contributing anything to society at all. Though I was alcohol-free I was still not happy because I had no direction.

I was still searching for "my place." In August of 1997 I was working in a restaurant. There were a lot of stories and news reports about the 20th anniversary of "The King's" death. It was a season of Elvis. The airwaves were filled with Elvis movies, Elvis documentary shows, almost non-stop Elvis on the oldies stations in town for several weeks (maybe months.)

One day at work an Elvis song played on the radio and I started to think about

one of the last conversations my brother and I had had some 9 years before. We were talking about our dreams and plans for the future, when he brought up his idea of me being an Elvis impersonator. I remember laughing. It seemed too far-fetched. He really believed that I should do it. All these years later I had nothing to lose and decided to take his advice and go for it!

Everyone thought I was crazy or had started drinking again! Nobody knew what secretly inspired me. Not at first that is. I owed that to my beloved brother. Instead of laughing off the idea I decided it was time to test his theory and see what I could do...



I started working on the look right away then did my first karaoke show in June of '98. It went so well I started looking for a band immediately. I got lucky and put together a band pretty quick. We got busy right off the bat and did 100+ shows our first year.

I feel very lucky to have a beautiful wife and 3 great kids who love and support me. "Little Jamie" (pictured above) is my youngest. He was named after my little brother James. I'm really lucky to get a chance to live my dream.

My band and I are polished, confident and ready to entertain your next event.

We perform an eerily realistic and energetic Elvis tribute show with a lot of variety in the play list. Our show includes Country, Blues and Classic Rock. We look forward to entertaining you. Let's keep the positive Rock-N-Roll of Elvis Presley alive.

Drop me a line. I try to read my email every day and I would love to hear from you!"