Greg Winston
Email: EchoesofElvis@aol.com

VIDEO CLIPS click HERE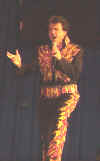 Greg was born May 13, 1963 in Ft Worth, Texas, and has lived in Houston since the age of 13.

Singing became an integral part of Greg's life early on, especially in church choirs beginning at about age 7. Greg tried out for a number of church solos, against older singers in the choir and was consistently chosen for these performances.

Greg's initial exposure to Elvis also came relatively early on, and began with what he now calls a "happy accident". In 1972 at age 9, he became bored with his children's records, and started looking through his parent's record collection. As fate would literally have it, he selected an album

entitled "Elvis - Live at Madison Square Garden", which had been recorded earlier that same year. Greg had never even heard of Elvis Presley. The album quickly captured Greg's imagination, and he practically wore the grooves out on the album. To this day Greg recalls feeling a sense of destiny at work as he listened to the album, memorizing the lyrics, and being affected by the charisma and vocal ability of the singer, and his effect on a huge audience.



Within a short time, Greg asked his parents if Elvis had any other recordings, and although they were somewhat surprised at the level of his enthusiasm, they allowed him the use of a second album, a two album set "From Memphis To Vegas", both recorded in 1969, with the Vegas album capturing Elvis' first live appearances in 8 years. Greg remembers being dumbstruck by an Elvis that he could barely

believe was the same man on this recording, who seemed like a wild man, performing a brand of music that was harder edged, less polished, and more urgent than the Madison recording. This album captured his imagination as much as the Madison recording, if that's possible, and by age 10, Greg was imitating Elvis' movements and singing style, to a degree even in church, which earned him some concern on the part of the pastoral staff along with clear admiration from girls his age in the church.

At the age of 11, in June of 1974, Greg had the surreal experience of attending an Elvis concert at the Tarrant County Convention Center.

Elvis died when Greg was 14 years old, an event that Greg to this day still recalls with a heavy heart and a sick feeling in his stomach.

One year after Elvis' death, Greg performed his tribute to Elvis publicly, with a backing band comprised of friends from school, and for certain songs pre-recorded music. A reporter for The Missouri City Mirror covered the event, and a photo from the show was featured on the front page of the newspaper.

Following the show, there was a tryout at Astroworld, which was
excerpted on Channel 11's evening news, but for some time there were no additional public performances as Elvis - but there were hundreds of hours of practice time, and a growing collection of Elvis recordings, at the expense of his
school lunch money, he recalls. Greg's love of the music only continued to
grow. At the age of 17, Greg joined a rock band playing music ranging from ZZ
Top to Van Halen, and even Black Sabbath, but he never forgot his musical
foundations.

Three years out of high school, Greg fell in love and later assumed
responsibilities as a husband and father. First Jennifer was born, then
he named his second daughter Lisa Marie. Although performing music was no
longer part of his life, Elvis' music continued to loom large and Greg sang
when he could for the sheer enjoyment of it. Years later, Greg divorced, though
he has remained extremely active in the lives of his children as a joint
custody parent. The divorce was an extremely painful time in Greg's life, and
the pain lasted for years, and Greg remembers that, as always, Elvis' music
was there to help him through it. In fact, Elvis' recordings which seemed
to reflect some of the heartbreak in his life, became all the more
meaningful and relevant in the wake of Greg's own experiences. Elvis' 1976 album "From Elvis Presley Boulevard", in particular, was a frequent companion.

In his mid 30's, Greg entered an impersonator contest at the Hard Rock
Cafe', on the anniversary of Elvis' birthday, and following a tremendous
response from the audience, he realized that not performing, not singing, and
not entertaining, had left a hole in his life. Greg resolved to recommit to
performing his tribute to Elvis, and has never looked back.

He owns two 1970's era Elvis-styled jumpsuits, one white, which was
featured prominently in the 1970 Vegas concert movie "That's The Way It Is", and one black, patterned after a 1975 suit, with more on the way, plus one
casual Elvis 70's outfit, the famous Gold Lame' suit jacket from 1958, and a
"Hillbilly Cat" ensemble from the early years. He prides himself on
performing Elvis' music across the full spectrum of his career, covering
three decades - from the Sun Years to Sunset, as he puts it. Greg has
performed at the Seabrook Music Festival, Gulf Greyhound Horse Track,
Chuy's Mexican Restaurant, The American Cancer Society's Walk For Life Event,
and recently at KRBE Radio's Anniversary Celebration, where he was an
opening act for the GooGoo Dolls, owners of two number one hits. He has been
featured in three Houston Chronicle photos and stories, including a huge half page color photo on the front page of the Chronicle's "This Week" section, under
the byline "It's Good To Be The King". Greg has also performed in additional
contests at the Hard Rock Cafe', excerpts of which have been seen on
most every Houston news station, and he has performed at private parties in
San Antonio and Louisiana.

Looking to the future, Greg plans to complement his Elvis wardrobe still
further, and to continue practicing hard to better his tribute in memory of
the man he says "is more than a hero to me". Greg says, "I often think about
that last live segment in The '68 Comeback Special, when Elvis sings words
to the song "Guitar Man" that were written especially for that show..."I'm
gonna get myself back on the track I ain't never ever gonna look back...I'll
never be more than what I am, wella wouldn'tcha know, I'm a swingin little
guitar man".

(Greg Winston's full time career is Video Producer, and Greg produces
video content for corporate, entertainment, and personal uses. Greg's videos
are often webcast for viewing on the Internet. He resides in Houston with
his two daughters.)

[home] [about us] [members] [how to join] [booking] [contact us] [events]