Harvey McFadden
Email: hsm75_us@yahoo.com
Phone: 936-377-2185 (home) / 713-636-4306 (work)

VIDEO CLIPS click HERE

Harvey was born in Houston, TX. He grew up on Elvis music and almost wore out his parent's LP album of "Elvis' Golden Records Vol. 1." For Christmas, 1965, he received "Elvis Golden Records Vol. 3," which became his all time favorite album.
Harvey joined the Navy in 1973, entering the submarine service in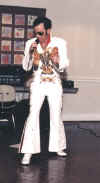 Hawaii not long after Elvis' "Aloha from Hawaii" concert. Elvis died on Harvey's second wedding anniversary just prior to he and his wife, Sharon, leaving Hawaii. The king was gone but when Ronnie McDowell came out with his debut song about Elvis just a short time later, Harvey began to feel the magic of Elvis once again.
In 1982, Harvey had the pleasure of meeting Jimmy "Orion" Ellis. It inspired Harvey to impersonate Elvis at a Halloween party that same year. He sang acappella in a pieced together outfit but won first place and the admiration of his friends. The Navy kept Harvey busy, but in his travels he collected as many soundtracks as possible, and in 1993 he rented a jumpsuit and sang at a friend's going away party in Florida. The crowd responded wonderfully, greatly encouraging Harvey to break out and do more.
Retiring from the Navy in 1995, Harvey returned to his old high

school as Naval Junior ROTC instructor. He visited Graceland for the first time in 1996, returning home with a new zeal and determination. In 1997, he sang "Unchained Melody" for the 1600+ student body at the homecoming pep rally. The students and staff went wild and when several of them told him they thought he was lip-syncing, he knew the doors were beginning to open.
Harvey continued to sing at school but was encouraged even more when he sang at a friend's retirement party in 2000, which included many people that didn't

know him. A few weeks later he met impersonator Lou Vuto and long time Elvis friend Charlie Hodge in Tennessee. Now that was inspiration! This was topped off by a tour of Sun Studios and a second trip to Graceland.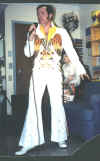 Harvey ordered his first jumpsuit and sang at several events in 2000. This included the big test - a Christmas concert at a local hospital where the patients and staff had never heard of him. The feedback was fantastic and Harvey knew it was time to really get started. This lead to a busy year of concerts in 2001 and his schedule is getting busier each month. One of his highlights of 2001 was having two of his songs played on Elvis Tribute Artist Radio in Canada, and 2002 highlights look just as promising.
Harvey recorded a gospel CD (as himself) in 1995 which received airplay on KJIC, 90.5 FM radio. He hopes to record a second gospel CD as well as his first ETA CD in the near future.

Harvey and his wife, Sharon, have been married since 1975. Harvey leads the music in their church, while Sharon plays the piano. They are regular soloists in their church and other local singings.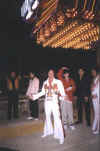 [home] [about us] [members] [how to join] [booking] [contact us] [events]