Mike Powell
Email: eb_elvis@yahoo.com
web site http://www.angelfire.com/rock2/sugarlandTXelvi/index2.htm
phone: 281-277-1850 (home) / 713-417-1391 (cell phone)

VIDEO CLIPS click HERE

Mike grew up in southern Michigan (Tecumseh) and was active in music from an early age. He taught himself guitar, played clarinet in the band, and sang in school choirs. He obtained a Bachelor of Science in Music Education degree at Malone College in Ohio. While attending Malone on a partial music scholarship Mike played in concert & jazz bands, woodwind ensembles, and sang in several choral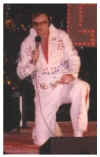 groups. After college he played one season in the Tuscarawas Philharmonic, a volunteer orchestra, and with numerous church bands. Mike has been part of church music for years and has played with community bands in the Houston area.
Mike began singing Elvis songs just for fun at Halloween. The response from his audience was tremendous, many people said he sounded "just like Elvis" and
asked if Mike was lip syncing! He quickly became a huge Elvis fan and learned many more of Elvis' songs. Professional background tracks, a karaoke machine, PA system, and costumes were acquired and requests for appearances quickly followed, until Mike became "Sugar Land's Famous Elvis."
Mike's experience impersonating Elvis continues to grow and includes his neighborhood's most elaborate Halloween concerts, a convention at Nashville's

Opryland Hotel, the Houston Marathon's "Hoopla" brigade, retirement & birthday parties, and local school functions. Of all the musical groups he has been in, singing Elvis songs is the funnest

thing Mike has ever done!
Mike resides in the Houston, TX area with his wife and three children. His (and his wife's) musical talents have been inherited by his kids who play french horn, violin, string bass, and piano. Mike is an insurance underwriter working with business insurance, and also is A+ certified and a power computer user.

[home] [about us] [members] [how to join] [booking] [contact us] [events]