Ray Covey
email: ELVISbyray@hotmail.com
phone: 281-471-8844 or 281-422-5392

VIDEO CLIPS click HERE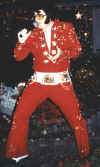 Ray Covey has been doing Elvis impersonations for eleven years. He was a passive Elvis fan until 1989 when he attended a costume party dresses as Elvis. The party moved to a nightclub on Westheimer where a local radio station was broadcasting live.
Upon the insistence of a friend, Ray was persuaded to lip sync and
dance to an Elvis recording. The crowd loved him and he was hooked. He invested in a karaoke machine and spent long hours perfecting Elvis songs. In 1994 he got his first paying performance - a birthday party in Grosbeck, TX. A limousine, complete with police escort, transported Ray to the Grosbeck convention center. Since then Ray has appeared at a variety of venues:
ON STAGE AT:

Riviera, Las Vegas
Rockefeller's West
Galleria Omni
Westin Galleria
Magnolia Gardens
Ovations
Hobby Hilton
Show Boat "Colonel"
Moody Gardens
Star of Texas
Sylvan Beach
Jalapeno's
Kenny B's

BENEFITS:

Leukemia Society
Channel 2 Labor Day Telethon
March of Dimes
East Harris County Seniors
The ARC of Greater Houston
Wesley Jacobs
Dalton White
Sunshine Kids Benefits

PERFORMED WITH:

Kelly Schoppa and the Amarillo Band
Crazy Lenny and the Party Maniacs
Vince Vance and the Valiants
KILT Band
Dean Darling and the Wanderers
Clara and the Country Classics

FEATURED:

Jerry Lewis Labor Day Telethon
Channel 13's Alvin at Night
Star Showcase
Strawberry Festival
Starmania
League City Festival
Totally Texas Festival
Houston Chronicle
People's Plus



The range and versatility of his voice enables Ray to impersonate many others -

he also loves being himself and using his own voice singing a variety of songs that he personally enjoys - this enhances the range of his entertainment. He is available for stage performances, birthday parties, weddings, anniversaries, and special events.
Ray has no trouble impersonating The King, even though he has hearing loss in both ears. He manages Audibel Hearing Healthcare Center, a hearing aid service in Baytown. His wife Vickie is a music technician during his performances. The couple have two sons, Brian 15, and Michael, 13.

[home] [about us] [members] [how to join] [booking] [contact us] [events]