Steve Reno
Stunning Steve Reno Story

From Key West to New Orleans from the Midwest to Atlanta...Steve Reno has been entertaining folks for nearly 5 years leaving happy memories of Elvis across the U.S.A. A true Elvis fan to the core, Steve implements a show that is respectful to the King's memory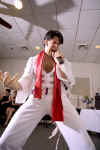 and adds a touch of humor between songs that enhances his performance.
Only 29 years old, Steve was born August 9, 1971 in Atlanta, GA. This former Radio DJ and Voice Talent has performed with some of the South's great bands, including Jimmy Buffett Tribute Band, A1A. He has also been the opening act for Greg "Fingers" Taylor (Jimmy Buffett's long time harmonica player),

an accomplished blues solo artist.
Steve, a long time professional actor, has had roles in several television series including: I'll Fly Away, Andersonville, and Savannah. Coincidentally, Steve was asked to dress as Elvis in a photo shoot he modeled for before he became an Elvis Tribute

Artist.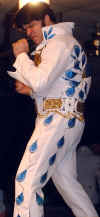 Steve has been a fan of Elvis since he was a little boy and has grown up listening to his music, & is consistently amazed by Elvis' vocal capabilities as well as his raw performances. He has been polishing his own performances at night clubs, weddings, and parties all over the United States. If you are ever in Houston or if Steve is in your area, please let us know. He

promises to deliver an unforgettable performance of the man who changed his life, Elvis Presley.